Did we hear someone say that the next Smartwatch has the capability to save lives?
Smartwatch has greatly influenced our health, which is not an understatement.  It all started as a stopwatch while taking exercise, as a step-tracking device or monitoring our heart rates albeit, non-medically just to keep us fit and motivated.
Smartwatches Are Work Horses
Obviously the modern wearable technology has more to it than just the advantages attached to Smartwatches.
More than the health-related benefits attached to Smartwatches, one would think that it is similar to having a cell phone. Not really, as accessibility has completely changed for the better. The evolving technology prompts you to just glance down at your wrist rather than pulling a phone out of your pocket or digging it of your purse.
Significance of This Evolving Technology in Marketing Parlance
Behold, we perceive a paradigm shift related to the benefits of wearable technology. Right from the beginning, the advantages were only for the person who was wearing the smartwatch. Times have changed, now with the integration of cellular capabilities, customer engagement is increased and also the brilliant ability of the retailer to track you through their store when you use their Wi-Fi are some of the advantages that we perceive now; thanks to the technology. Have a look at how businesses are getting involved: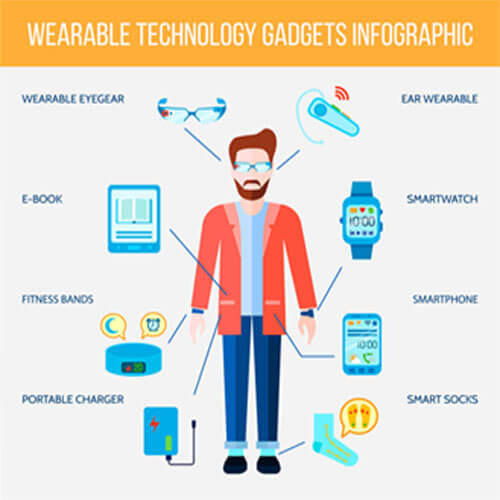 Payment Through Mobile Device
With mobile payment apps like Apple Pay which has been trending has also become essential and imperative when people on the move, particularly women with children and infants wish to pay by just waving the wrist as she is unable to dig the wallet while she is engaged with her children. She may change the choice of her store if this mobile mode of payment is not accepted at a particular store.
Improving Customer Engagement
All of us expect shopping to be a cool affair. The current technology has scaled too high by leaps and bounds.  You will get a different shopping experience with wearable app…you will be cordially welcomed by name and informed of any deals based on your shopping habits which goes a long way in retaining you as a valued customer.
Advance Knowledge of Customer Needs
Everybody wishes to spend quality time at a store and vamoose. You yourself wished to make a quick stop at the store pick up a few things and leave in a haste. After entering the store, you discover to your dismay that the items that you are looking for are not available, presently. Bingo…Target has anticipated the needs of their customers by updating its Cartwheel App to include simple things of convenience like store maps and where to find specific sale items. If you are a repeat customer, you will be tracked by GPS using the store's Wi-Fi, find out your shopping habits and even your location in the store. The map facilitates and directs you to those sale items that you are likely to buy; besides offering you customized ads and discounts that you would like to go for.
Local Content Offered
With advanced technology, some stores will prompt you with ads just by being close or driving near it. Local retailers gather insight with geo-targeted ads and consumer habits. Retailers can then share special ads and discounts to the stores you frequent most.
Currency & Social Engagement
The restaurant is one of the most popular places where social media currency is being used. Your social media profile allows you to check-in, show your server and you get something for free; anything like a small appetizer or dessert, or soft drink. Word of mouth publicity has always been a strong marketing tool for restaurants even in times of advanced technology. Part of your food bill is paid by the restaurant. Now you will paint the whole town red and also go about telling your friends and acquaintances the best place to eat out. You hardly spent any time to tell all of them about this.
While we become more dependent on wearable technology and in turn wearable technology will adapt to our needs as consumers in the future. Future businesses will continue to find exciting and creative ways to make things more convenient for us. The rush for wearable technology is making things easy for both marketers and consumers. But it is only the beginning of a trendsetting technology which is going to stay for long.